Inspired by masters such as Sharon Lee and Steve Miller, Lois McMaster Bujold and Anne McCaffrey, N.S. Shajay (the penname for a NYT and USA Today Bestselling author) has launched The Status Unknown trilogy, an action-packed space adventure that follows a ragged band of crash survivors pitted against a deadly, primeval planet that is uninhabited … or is it?
Crash, Sanctuary and Avalon, the entire Status Unknown trilogy, are out now. Dive into this deadly new world by signing up for the newsletter and receive a free science fiction novella, Enix. Experience a taste of N.S. Shajay's imagination with a free short story, Bones Of The Brave, by clicking here.
Edge of your seat space survival adventure.
NS Shajay's CRASH is the first of a space fiction trilogy very much in the spirit of old-fashioned adventure SF. Featuring lots of action and characters harder than the science, CRASH begins in a future where war and population growth have made getting out of the solar system necessary and science has made it possible – for some.
Shajay pulls together a spaceship crash, planetside adventure with monsters and murderers, and man versus nature writ large in a read that reminds of a mid-period McCaffrey, Heinlein, or Norton. We're waiting for the next one!
Sharon Lee and Steve Miller, authors of the Liaden Universe®
FREE SHORT STORY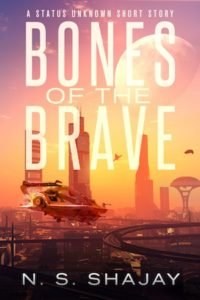 SUBSCRIBER-EXCLUSIVE NOVELLA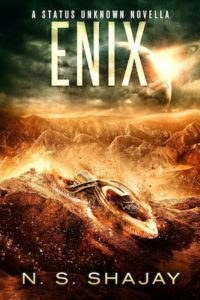 Terra is a child of Enix. A soldier finally returning home after years fighting in the wars that have devastated Earth and Mars both. Then her transport driver suffers a fatal heart attack…and the transport falls off the edge of a steep ravine.
Terra is one of six survivors. All of them stranded in one of Enix's barren rock-deserts.
Her planet's sun is a harsh and unforgiving companion, water scarce, and the land inhabited by land crocs who see humans as food. To make it home, Terra will have to fight another war. This time against Enix itself.